Sunday morning I got a text message asking if I heard about Kidd Kraddick.  I quickly turned on the local news to see what was going on. 
For those of you who don't live in the DFW area or syndicated places around the US, our local radio station DJ, Kidd Kraddick passed away on Saturday.  It almost feels weird to write about him but if you lived in the area, you likely grew up listening to him as many of us did.  I remember listening to him when I was in 8th grade and every morning on my way to school and work since then! 
This is a shot of the morning show crew this weekend before he passed away.  They were in New Orleans raising money for the Kidd's Kids Charity.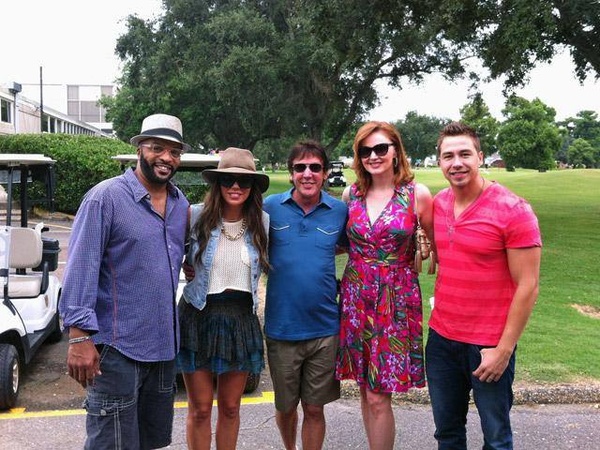 Kidd Kraddick's show would have you laughing in your car, or even crying.  There was something so magical about the morning radio crew that you didn't want to miss anything they had to say!  Over the years, Kidd Kraddick's show was featured on Dish Nation and I loved when I could catch them on TV to see what they were up to!  If I was missing a chance of being near the radio, I would even dial into IHeartRadio app on my iphone just to hear what was going on!!
The response to his passing has been overwhelming and sad and uplifting at the same time.  He would always end the morning show with a quote that said:
"Keep Looking Up, Because That's Where it All Is!"
I title my post today saying 'N more 'Amazing'' because Kidd Kraddick used to talk about the vocabulary of our newest generation and how we all use the word "amazing" to describe anything and everything.  He was right and I know I catch myself saying it all the time.  He once took a speech someone gave and counted how many times the person used the word amazing just to show how bad we have gotten at finding other words to express how we feel .  
Kidd Kraddick, while he hated the word, was AMAZING. 
For the past 20 years of his career he has been raising money each year for a charity called Kidds Kids which you can donate money that goes towards giving chronically ill and/or physically challenged children (ages 5 to 12) an unforgettable adventure to Disney.  It's a 100% paid for experience for up to 50 children and their families to spend a week without having to worry about their disabilities or challenges. 
He was truly an amazing man and everyone has a story of how Kidd and the rest of the show touched their lives.  I think my most memorable moment was when my parents moved to Saudi Arabia and driving to work on 9/11, I heard it first from Kidd Kraddick's show that planes had just hit the World Trade Center and developing stories about the terror attack.  I always appreciated the way they handled the news so that people were comforted and fully informed.  I tuned in to hear them give the latest information until I could get a hold of my parents to make sure they were okay too (not knowing how wide spread the attacks were). 
Nothing short of Amazing!! You will be missed Kidd!


If you want to donate to the Kidd's Kids Charity, you can do it directly HERE or you can buy a T-shirt like I did that has most of its proceeds going towards the charity and a beautiful statement to wear around to show my love and support for the incredible DJ that he was in my life.
Pin It