Wow! How did May go so fast that I didn't even get a May This & That posted!?  I'm doing a combo deal today.  Welcome all new readers and friends who have been along with us in our Journey!  This post was inspired by How Does She's post sharing their  Top #'s for categories.  I think its important to share top favorites every now and then.  Enjoy!

Did you know you can sponsor The Johanson Journey?  Take a look HERE if you are interested.  If you are interested in swapping or promotions, please contact me!
1. Measured by the Heart with Connie 

 
Say hello to Connie! She's the creator behind Measured by the Heart blog.  I found Connie's blog through Instagram as I realized through her pictures and sweet comments that she was a friend for sure!  She posts great tutorials and has a beautiful talent with hair that I wish I had.  Stop by and say hello! She's awesome.
BLOG~FACEBOOK~TWITTER~PINTEREST
2. Nicole from Life's a Beach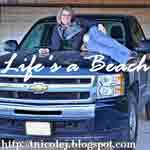 Sweet Nicole!  This gal has mouthwatering posts about what her family ate over a holiday or weekend that will have you gaining weight while you read.  Living a in a farmer world, she is often sharing pictures of her sweet animals including horses and adds some tid bits about her family.  She's what I'd like to call a down home country girl with a big city heart!
BLOG~ FACEBOOK~ TWITTER~PINTEREST
3.  Date Girl from The Date Girl Diaries


Date Girl Diaries is a fun place in space where you can follow along the journey of Date Girl meeting her Match.  You will laugh, you will smile and you might even cry but through all that life has thrown her way, she's a strong lil' Momma and you can be apart of her posts about motherhood and her sweet newborn baby!
BLOG~TWITTER~PINTEREST~FACEBOOK

Its no secret that I have a great love for great deals and shopping online for the most unique gifts!  I feel so passionate about these companies, that I signed up to spread the word about them.  These are my top 3 favorites right now.
1.  Pick Your Plum- best daily deals!! Get it fast before your neighbor does!


2. Amy Cornwell- custom jewelry at a great price and outstanding quality! My collection is growing from here! Dare ya not to fall in love!

3. The Printed Palette- super cute shirts for men, women and children!


These are not necessarily "new" blogs but they are just new ones I have added to my reading. 
I think you would love them too! 
1.  Put Down the Urinal Cake
2.  Love.Jaime
3.  The Wanderblogger ~ back from a blog break & new blog name!
4.  Heather's Happenings ~ back from a blog break
5.  Masons Mama
 

In the past few posts like this I've found word searches interesting to see how people have found my blog.  This time I thought it would be neat to see how many are coming from the USA vs other countries.   Top views from other countries were:
1.  Sweden
2.  Ukraine
3.  China
France and Germany were tied for 4th place.  Where are you from? 

Thanks for stopping by! Have a great week!
Pin It