I am so ready to tackle November and realized just the other day that Thanksgiving is coming faster than I had thought!  Less than 3 weeks away!  I am relieved to take down the cobwebs and get rid of the rotting pumpkins finally!  So, today I'm back with Emmy over at EmmyMom Blog and we are sharing our Instagram pictures!  FatMumSlim is responsible for this addiction as she creates these fantastic daily challenges that I can barely keep up with anymore.  If you have not become an addict, I recommend you start now because with our without the challenge, I am still an Instagram junkie.  We decided to throw this meme to get her to give you a chance to share them with us!
Today is the day to share your month of October   If you participated in the Photoaday, blog about it and join in the fun. Emmy even made a little button you can add to your post.  Find me! @Johanson52607!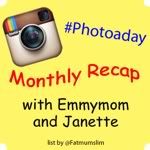 Also, did you know you can link up your actual Instagram Feeds? Didn't get a chance to recap your month? That's okay…. This is an option if you want to send us directly to your feed. They are free & easy and give you a link that you can link up with!  For example, mine is:http://web.stagram.com/n/johanson52607/
Here are the places you can pick from.  I use Webstagram. Followgram | Ink361 | Webstagram | Gramfeed | Extragram

And there ya have it.  My collage of my month of October.  Can't wait to see yours!  Here is the prompt for November and I'm also adding a fellow blogger weekend challenge if you feel like gettin' crazy! Link up!
Pin It