Phew! I am so relieved that I survived September. It is by far the busiest month in our family for birthdays. Step Sister Haley, Step Brother Jason, Ryan, Rayne, my Step Mom Kaye and again, I breathe a sigh of relief that its now October.
Emmy over at
EmmyMom Blog
and I are sharing our Instagram pictures! She has to be one of the most dedicated photoaday gals I know. Emmy is also a professional photographer so I think she has a great advantage and some awesome subjects! Ps. Emmy is having a birthday this month! Wish her a happy day (25th).
FatMumSlim
is responsible for this addiction as she creates these fantastic daily challenges. If you have not become an addict, I recommend you start now. We decided to throw this meme together to give you a chance to share them with us!
Today is the day to share your month of September. If you participated in the Photoaday, blog about it and join in the fun.
Emmy
even made a little button you can add to your post. Find me! @Johanson52607!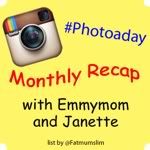 Also, did you know you can link up your actual Instagram Feeds? Didn't get a chance to recap your month? That's okay…. This is an option if you want to send us directly to your feed. They are free & easy and give you a link that you can link up with! For example, mine is:
http://web.stagram.com/n/johanson52607/
I think the coming months are going to be fun, especially with the holidays upon us! YAY!! Here is my look back over my favorite pictures from September.
And there ya have it. I can't wait to see your posts!

Pin It