Blink! Wow, I cannot believe August is already in our rear-view mirror.  I must say that I have never felt busier and yet have nothing really to show for it.  We are in the midst of planning our September birthday parties for Ryan who is turning 5 and for Rayne who is turning 1, so both of those have kept me knee deep in plans. 
Emmy over at EmmyMom Blog and I are sharing our Instagram pictures!  She has been so kind and patient to do this with me.  I've been some what of a slacker. FatMumSlim is responsible for this addiction as she creates these fantastic daily challenges.  If you have not become an addict, I recommend you start now.  We decided to throw this meme together to give you a chance to share them with us!  Today is the day to share your month of August.   If you participated in the Photoaday, blog about it and join in the fun. Emmy even made a little button you can add to your post.  Find me! @Johanson52607!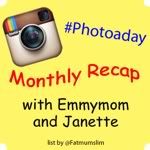 Also, did you know you can link up your actual Instagram Feeds? Didn't get a chance to recap your month? That's okay…. This is an option if you want to send us directly to your feed. They are free & easy and give you a link that you can link up with!  For example, mine is:http://web.stagram.com/n/johanson52607/
Here are the places you can pick from.  I use Webstagram.
Followgram | Ink361 | Webstagram | Gramfeed | Extragram
I seem to always start off really well with the challenge and then some how I slowly pooter out.  If you have any suggestions or tips on how to stay on track, I bet there are a bunch of us who could use that advice.  I like to show you the favorites from the month as a summary of my photoadays.


Not to shabby- I assure you that I am using Instagram A LOT and you can stay up to date with my pictures as they upload directly from my feeds to my blog.  If you want to be challenged with me, here is the next months photo a day.  Fat Mum Slim has updated her hash#tag so be sure you are adding the new one #FMSphotoaday.  See you next month for the recap!
Pin It