Emmy over at EmmyMom Blog and I are back to share our Instagram pictures!   FatMumSlim is responsible for this addiction as she creates these fantastic daily challenges.  If you have not become an addict, I recommend you start now.  We decided to throw a meme together last month to give you a chance to share them with us!  Today is the day to share your month of July!   If you participated in the Photoaday, blog about it and join in the fun. Emmy even made a little button you can add to your post.  Find me! @Johanson52607!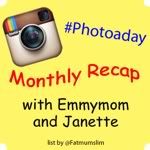 Also, did you know you can link up your actual Instagram Feeds? Didn't get a chance to recap your month? That's okay…. This is an option if you want to send us directly to your feed. They are free & easy and give you a link that you can link up with!  For example, mine is: http://web.stagram.com/n/johanson52607/
Here are the places you can pick from.  I used Webstagram.
Followgram | Ink361 | Webstagram | Gramfeed | Extragram
I was not as great at keeping up with the July challenge but I'm not giving up!  Stay tuned below for the August challenges I'm doing and so far I've been sticking to it!  Emmy would be so proud!

Honestly the variety that the challenges give you make for some pretty cool pictures to look back on.  Who knew I would be taking pictures of rain drops, the cloudy skies or even sharing them with you today.  Technology and creativity is amazing.. I just need to download my pictures off my phone because I'm running out of space and have to delete a lot as I go <shame shame>.
If you want to get in on the challenge—even if you aren't using your phone, you can still print these off and try to capture the moments for your month.  Tip Junkie & Fatmumslim both have fab monthly ideas!  Check them out!
Pin It