Hopefully I haven't lost all sight of the friends and bloggers that I have met along my way with my lack of posting. I am sure you have all experienced 'writers block'. I have had it for a few weeks now and I am hopeful it doesn't last long. All of the professionals say its temporary so I'm keeping my fingers crossed.
Its another hot summer Monday and for many, you are prepping your lil' ones for the coming year at school and wrapping up your summer vacations. For me, I haven't experienced a summer break since I was in college.
As a working mom, every day is pretty much the same. While I would love to take a vacation, it requires Erik and I to have enough vacation time earned, enough money to make the trip worth it and kids who are old enough to remember it. Every week, we are excited for the weekend. Birthday parties are starting to fire up and all of the stores are gearing up for the next seasons holiday decor. I have a list of things I need to do but once the kids are in bed and its time to look at my computer, I'm finding my pillow more desirable!
So while I get my words together, I'll leave you with a few things that I know are going on around here.
1. You can always find me over at The Red Carpet Ladies! This week you'll hear about one of my favorite cookie stops on Etsy: CookieCoterie and how you can win a gift certificate to her shop!
2. You should stop by tomorrow to see a recap of my July failure instagram recap with my friend Emmy over at EmmyMom. We created a link party for you to link up your instagram shots for the past month and if you were a dedicated photo a day participant, this is your chance to share it!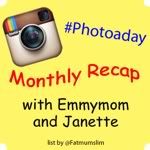 3. Fellow blog friend Jessica has started her own venture with Thirty-One and she's so excited! Join her facebook group HERE for the latest deals & updates and you can even get in on her current party HERE, just click MY PARTIES and you'll see it! So cute! Love this stuff!
4. I'm officially in planning mode for Circus themed parties! If you have ideas, send them my way!
Pin It