Welcome to another fun week!!!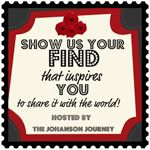 I want to remind you that a Pinterest Board has been created specifically to show off your find!  Take a minute to check out what is already there and the rest of my boards!
Notes & Reminders:  I am only keeping the party open for a day because it is only fair to give credit for the most links and most pins. I will sadly delete etsy stores because although I am a huge supporter for Etsy and all of the creators, there is no way to link back.
Last week's top find was Sarah from Life on Walnut Street's Summer Floral Deco!


Our top pin on Pinterest was also Sarah's fab deco!! Great job girl!!
These are the places I'm finding deals DAILY!!
Two Easy Rules!
I'm sharing your ideas, thoughts and deals!
Lets get started… First Easy 2 step rules…
1} Link people back to SUYF with my sassy button
… the more ideas & great deals we can find, the better!!! Please help spread the word for this great link up!
2} Link up your post showcasing your favorite find!!
Was it a project you tried or favorite place to buy treats from?     SHOW US!!
There's no end to what kind of great things are out there.  It can be apast or present post but please link back to your specific post
(makes it easier for me to pin you too!)
Pin It