I am not shy, I'll admit I have had my share of swaps gone bad…. promises to be friends for ever and packages are sent, thank you's are exchanged and things tend to fizzle.  I knew that my gals Seriously Shawn & Impulsive Addict would do me right and pair me up with a good blog friend that will last!  I was right!!


There is so much pressure on getting the right thing and making sure it will be something your swap partner will love.  Lucky for me, my swap partner was already a blog I followed and loved. 
Meet Stacie!!



She has the best tips, yummy recipes, and a sense of humor that is right up my alley!!  Shopping for her was too easy but there is still always a sense of fear and doubt… so stop by and see what I got her!!
A package arrived.  Excitement!!!  Let's begin with Show & Tell!!!  If you are wondering if I got spoiled, the answer is YES.

Adorable black and grey bag which I plan to use to carry my lap top… its light weight and goes with everything I wear!!  Gifts inside are for me and those lil' lovely gifts outside are for my sweet kiddos!!! TOO KIND!!!

 
The first question when opening anything in my house, "Is that for me!?" so I was really glad to say—YES!! Ryan proudly got bubbles!!


Reese got a Twinkle Twinkle book with a follow along CD!

Rayne even got her own fun book that she LOVES by the way- the crinkle books are the most amazing books for babies her age!!

The fun did not stop there for my sweet offspring.  I stepped away from the box and was getting something from the kitchen and when I went to check… here is what I found:


The look on Reese's face was what made this all okay- it was an easy sweep and I knew they loved every second of it!  Who knew peanut or ghost pooh diving could be so fun!!
On to the good stuff!!!! It began with sweet chocolate and yummy gum!! Perfect for my sweet tooth & Reese's too….


An adorable frame that I quickly printed a picture of Reese and inserted because it was just too cute!! Emmy over at Emmy Mom Blog edited a picture of Reese so I am show casing a black & white of it in this awesome frame!!


These aren't the best pictures to showcase… but I have a SASSY grey and black with hints of silver scarf on… in case you were wondering—Stacie is the one who got me started on scarf's to begin with!! Adorable hoop earrings that seriously go with everything I wear… and a cute pink polish on my nails!!

 
This was the fastest drying polish I've ever used so I grabbed Reese and painted her's too.. She was SOO proud!!! Matchin' her Momma!!

Stacie also gave me the hook up on a lil addiction I call STARBUCKS, some minty lip balm which I was in dire need of anyway…. a fun craft idea which I think I"m saving to do for Reese's 2nd Birthday party to make pinwheels and a sweet lil' notebook for all my lil' reminders!!


Many Thanks to Stacie & to IA & Shawn for setting up this great swap!!! Had a blast & can't wait to do this again!!  I'm linking this up with their Talk to Us Tuesday link up as well!! You can share anything, no rules!!! Even if its not about your swap!!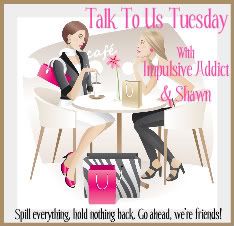 ~~~~~~~~~~~~~~~~~~~~~~~~~~~
There is a party going on linking up your favorite Pick Your Plum inspired posts! Stop by and Show US Your Plum HERE for the whole month of February!  A winner will be selected for best idea to receive a Plum Box!

Pin It