I'm sortof sad to see this Recap Party come to a close, although I'm DYIN' to know who wins all 8 prizes!!!   I am just amazed how fast this year has gone by!!!  Lets take a look back at October, November & December!
**** A quick note of apology for not making it around to leave a comment with everyone, I still love ya and hope you haven't given up on me! ******
A few reminders:
1.  If you follow all hosts, you earn a bonus point and must, I repeat MUST let Emmy know in the comments of THIS POST in order for it to count.
2. Link up each week (total of 4 times) and get 1 point per, however you can gain another bonus point by linking up all 4 TIMES!!
ALL RULES and DETAILS can be found read the rules here. and would love for you to join!  Its easy, fun and harmless to be entered to win 8 prizes--- oh and meeting new people is also a perk!! Take some time to click the follow button, even if its not one of the hosts…. could be your next bloggy BFF!!
Grab our button and let's roll!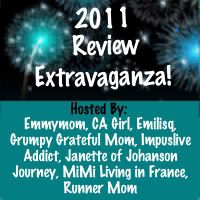 OCTOBER:
Aw, my pregnant buddy/BFF had her sweet baby girl Emery!!

It was also fun celebrating Halloween this year since it was Reese's first time to dress up and head out.. and we went to a fun parade for their school…


I also started writing a letter to Ryan about lil' antics he has to remember later… ahhh… memories! 
Also tested out the local Pumpkin Patch!


I was enjoying my maternity leave and also posted Rayne's new born shots! One of my favorites:


NOVEMBER:
I gave ya'll a blog tour to point out some of the important things added!
OOOH!!! I also gave you a VLOG about my obsession of hand/footprint art!!


I realized also that Reese and I like to eat our donuts the same way!!! Love it!


Aw, I did another fun craft—one I thought of myself! I can't believe it!  hah!


Linked up with a meme hosted by Kmama of the Daily Dribbles  &Emmy to talk about my sweet girl and thank my gal pal Amy at Nine Ninety One for such a sweet outfit!!


I also showed my toe painting skills! 


And enjoyed time with family at the park while the weather was nice!


DECEMBER:
Aw…. as glad as I am to start a fresh year, I'm sad to be saying goodbye to December and 2011!

I took the plunge and am now my OWN DOMAIN!!!!  
http://www.thejohansonjourney.com/
I shared my 12 Days of Christmas with Traditions and Favorites.
I also shared a VERY annoying situation about a speeding ticket from a DECADE ago that is STILL NOT RESOLVED!!!  UGH!!!
Rayne also was baptized!!!

I am so thrilled to have shared this year with you all.  I had no idea when I made my 2011 new years resolution to be a better blogger that it would be as rewarding as it has been.  I am so thankful to the friends I have made and hope to continue to be a better blogger and can't wait to grow with you all in 2012!!!
Pin It