I know people will probably be SWAMPED and not checking blogs but just wanted to let you know that I'll be posting a lil' Christmas Cheer tomorrow on Christmas Eve.  If you get a chance, stop by!!  I sure hope everyone has a VERY MERRY CHRISTMAS!!!!
Lets take a look back at July, August & September, aka…. the hottest days of my LIFE.
A few reminders:
1.  If you follow all hosts, you earn a bonus point and must, I repeat MUST let Emmy know in the comments of THIS POST in order for it to count.
2. Link up each week (total of 4 times) and get 1 point per, however you can gain another bonus point by linking up all 4 TIMES!!
ALL RULES and DETAILS can be found read the rules here. and would love for you to join!  Its easy, fun and harmless to be entered to win 8 prizes--- oh and meeting new people is also a perk!! Take some time to click the follow button, even if its not one of the hosts…. could be your next bloggy BFF!!
Grab our button and let's roll!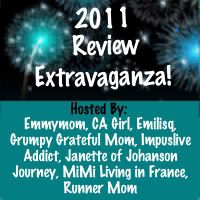 July:
Ahh… the month I created more monsters for my kids to fear… well, in hopes to avoid potty accidents..I thought for sure I could write a book about it.


I came up with a Friend 2 Friend match up for bloggers to meet other bloggers (sadly this fell by the waist side about a week before Rayne was born).  I loved getting to know ya'll more… need to get back to this!


I talked a bit about feeling bad for Ann Coulter for being attacked for speaking her mind and giving facts and wishing that I could sometimes be anonymous on my blog so I can write and speak my mind about stuff with out worrying.
I couldn't help myself and had to talk about the heat!!!!


One of my favorite descriptions were:
It's so hot, I saw two trees fighting over a dog.
It's so hot, a seat belt makes a pretty good branding iron.
I was also very excited to meet Rayne and showed an updated sono pic!


I also was starting to talk about Christmas with my wish list including

AUGUST
My favorite part of August was my baby shower for Rayne!!!


I shared one of my Dr. visits and my blood disorder which has always put me at high risk during my pregnancies…. HERE.
I also told ya'll about how music was letting me down these days and started writing sponsor posts by SOCIAL SPARK! Getting paid to write a post sounded good to me- Ask me if you want to know more!
I got a fun 4D ultrasound too this month!!

OOH!! I can't forget to mention my FIRST EVER SELF created craft idea!! I gave a tutorial!!


Ryan also checked out his first Rodeo!


SEPTEMBER
Ryan was turning 4 years old!! We were thrown off gaurd this month as we thought Rayne was coming in early October, but she debuted 10 days before Ryan's birthday!

Wrote a lil' ditty about Rayne's arrival:


Thank goodness for Guest Bloggers--- LOVED YA'LL!! 


I apologize in advance if there are typo's or misspellings—I'm too pooped to check!  MERRY CHRISTMAS!!
Pin It