My sweet friend Ashley over at Cherished Bliss asked me to be a guest judge for her Christmas tutorial link party!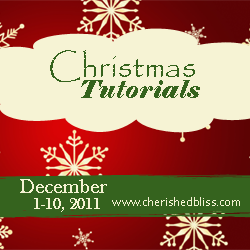 All I have to do is pick my favorites and share them with you!! I'm needing some inspiration and hope you love these as much as me!!  Now, I just need to find the time and energy to do these too!!  All of the crafters did an amazing job!!

My TOP 5 picks in no particular order
(click the picture to be taken to their tutorial):
BURLAP CHRISTMAS TREE



JINGLE BELL ORNAMENT



GARLAND OF GIVING



VINTAGE PAPER ROSE TREE



CHRISTMAS CONE ADVENT

Do me a favor, please let these gals know I sent you and if you want to see the other ideas you can pop over to the master list of great ideas to find your favorites!!  Click HERE for Cherished Bliss' Link Party list.  Happy Crafting! Ashley has a craft and tell party weekly if you want to link up!

Linkin up with gal pals Impulsive Addict & Seriously Shawn!  I've gotta tell them about these cute ideas!!
Pin It