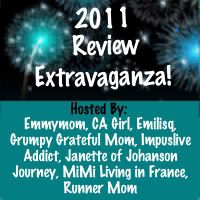 Have you seen this button around the blog-sphere or here on my blog? (by the way, I am loving this font!)
What is the 2011 Review Extravaganza? It is your chance to write up some posts and recap what happened throughout the year. You can put your favorite pictures, tell your favorite stories, link back to your favorite posts, really however you want to do it. And just in case you had some slow months, we will be reviewing three months at a time. This will begin Friday, December 9th.
Friday the 9th recap January, February and March. Friday the 16th recap of April, May and June.
Friday the 23rd recap of July, August and September. Friday the 30th recap of October, November and December.
You can see Emmy Mom's (who graciously included me in this years RE) first review by clicking here if you want an idea of how to do it.
Towards the end of the year, we all are running around like chickens trying to get food prepared and gifts purchased and if you are like me, you feel like you are neglecting your blog or are in a rut…. This is a great way to reminisce over the year as you get ready to start your New 2012 Year!!
Need some encouragement? Well, this fun review will also be tied to a PRIZE!!  There will be 8 prizes!!! One from each of the hosts!!!! And how do you win? Every week that you link up with your review you get a point- and the more points you have the more time your name is thrown into the hat. Next week I will have more information and ways for you to meet the other hosts incase you aren't already a fan of theirs! 
Set your Fridays in December aside!! Lets all share in the memories we have created this year!! I know my family is always asking me for a blurb about what the Johanson's have been up to for the year, so this is my Christmas letter, if you will, just broken down by months!! :)
xoxo…
Pin It